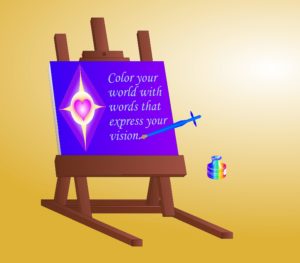 Do you have a story to tell, a technique to share, a vision to impart, or a desire to publish a book that will inspire others? Do you lack the writing skills to convey your message? A ghostwriter can bring your dream to life. A great one will capture your voice and be able to write in a way that is both beautifully expressed and still has the flavor of your essence.
The first time I realized I could communicate what others wanted to say came about as a result of the death of a friend's brother. I had met him only two or three times and knew little about him, but it was clear that my friend saw her older brother as her closest companion and confidant. I wrote a poem for her during the depths of her grief, and she wept when she read it. She said, "How did you know? This is exactly what I would have written myself if I could have found the words. You captured exactly what he meant to me."
From my perspective as a writer and poet, this task came naturally. I simply listened. That's what writers do. I embraced her feelings for him and found her voice flowing onto the page.
As a ghostwriter, part of my job is to hear you—your voice, your manner and your message—and then to translate that into effective, easy-to-read writing that imparts whatever you seek to share.
Ghostwriting requires a major commitment from the writer. We begin with a number of interviews that I record and have transcribed. During those conversations, I listen to your words, feelings, expressions, and manner. All of these things contribute to being able to give voice to your message in a way that reflects you.
With your input, I arrange the flow of the book and create an outline. Only then can I begin the writing itself. Depending on the length of the book and scope of the content, a writing project can and often does take several months (obviously less for short books).
Rates:
To go through the entire process from interviewing to fully-written book, I charge 50 cents per word. There are approximately 250 words per page in a manuscript. For a 100-page book, that brings the cost to $12,500. (For a 200-page book, the cost would be $25,000.)
Exception: An additional 5-10 cents per word is added for books that require in-depth research. Novels generally demand considerably more work and multiple sessions with the client; the rate for these is higher than that of non-fiction books. Please inquire if you are interested in this option.
Genres/Categories:
Ghostwriting requires a writer to let go of personal style and projects and commit to sharing the voice and message of another person. For this reason, I only take on projects that reflect my areas of expertise and interest. If your potential book fits into one of these categories, then I would be delighted to share this journey with you.
Self-help, healing or health: These books offer readers a means to shift their lives, heal in some way, or embrace a healthier lifestyle.
Inspirational non-fiction: Life stories or memoirs that uplift or share insight and wisdom that could help others are a specialty of mine.
Spiritual or angelic fiction or non-fiction: This includes angel stories (real-life or fiction), metaphysical teachings, and spiritually-uplifting books.
The path to abundance: These books enhance the lives of readers by revealing methods that provide a boost to business and prosperity or by expressing the path that led you to a life of abundance.
Science fiction and fantasy: Sometimes people have a novel they ache to create, but they lack the writing ability or the time necessary to bring the story to life.
Full Service Publishing Program:
As a member of the staff at Realization Press, I invite you to consider one of our packages to bring your ghostwritten book to publication. Our team can provide you with *editing, formatting (for e-book and/or print), publication of your printed and/or e-book, and marketing strategies. We can help you build a website and an audience if you decide to enlist those services as well. If you want to know more about our publishing packages, please visit Realization Press.
*Note: As the ghostwriter, I edit as part of my process. However, any wise writer knows that it is all too easy to miss things in a manuscript that you have written. Therefore, using one of our other editors will ensure that your book receives complete editing.