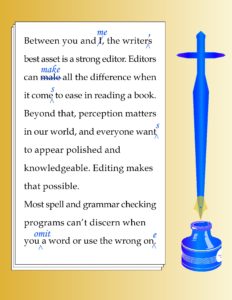 Clear, fluid expression and proper grammar invite the reader to respond favorably to your book. A well-written and edited book leaves an overall impression of an author who knows his or her subject and is an authority in the field. As noted in the accompanying graphic, perception matters in our world, and everyone wants to appear polished and knowledgeable. Editing makes that possible.
Creative Type offers many levels of editing.
Copy editing provides clarity and correct usage. Quite simply it cleans your writing of errors in syntax, grammar and punctuation. This allows your message or story to be conveyed effectively, professionally and clearly.
Line editing involves examining each sentence and paragraph for style, language and readability. Rather than searching for grammatical mistakes, this type of editing helps you make certain that you aren't losing your readers because the writing lacks what is needed to keep their attention. Line editing looks for proper transitions, redundancies, digressions, monotony in style, issues with tone, meaning, etc. The kinds of questions that are addressed by line editing include:
Is your book easy to read or bogged down with lengthy sentences that share the same structure?
Is your style fluid or choppy?
Is your material to the point or composed of filler that simply repeats the same information in slightly different ways?
Is your tone appropriate and consistent?
Does the material make sense?
I incorporate both copy and line editing into what I call "heavy-duty editing." To be honest, it's difficult for me to copy edit only since both of these forms come so naturally to me. My gift for spotting grammatical errors and my penchant for noticing style issues seem to be profoundly connected. As a result, I definitely like to include both forms whenever possible.
Substantive editing, which may be referred to as content editing, helps you create a manuscript that entices your audience and prepares you for publication. Content editing provides a level of quality to your work that lets the world know you are a professional. Issues with organization, focus and direction are addressed in the process of substantive editing.
One of the bigger jobs of the substantive editor encompasses the vast ocean of flow and continuity. In a fiction book, a content editor has to be aware of plot logic, timing and consistency in writing style, point of view, settings, characters (what they are wearing, physical characteristics, personality, etc.) and more. For example, in my novel my content editor had to keep track of the phases of the moon to ensure that the full moon came two weeks after the new and that every stage between was timed accurately. In a nonfiction book, the editor looks for correct sequencing of activities, consistency of message, adequate background before the presentation of concepts as well as many other issues of continuity.
Substantive editing has many facets far too numerous to mention. It may include reorganization of content, which could mean reordering sentences, paragraphs and even chapters. Content editors can help you define and understand your audience and keep your message focused, clear and true to your premise and your voice. Substantive editing also includes checking for proper and correct attribution and making certain your background research is accurate.
Perhaps most importantly, a great content (and developmental) editor elicits the best in you as a writer. I can't help but think of how painstakingly Scribner's Literary Editor Max Perkins worked his magic on the writing of Thomas Wolfe. He truly helped the author hone his brilliant talent. I don't claim to be as gifted an editor as Max Perkins was, but I am someone who understands writers and can help them uncover their story and communicate their vision or message.
Michelangelo said, "I saw the angel in the marble and carved until I set him free." My role as a substantive and as a developmental editor is to see the beauty in the story or concept and the potential in the writing even when it is not yet fully revealed and help you to shape your masterpiece from the raw material of your manuscript.
As is true for a developmental editor, a professional content/substantive editor cannot be a yes-man or flatterer. I am happy to share positive insights into the manuscript as we move through the editing process. However, it would be useless to hire a content editor unless you are actually willing to make changes to your book that will improve its quality. If you genuinely want your book to rise to a level of excellence, then you will benefit from a substantive editor as well as a copy editor.
Copy and substantive editing don't come cheaply. Nonetheless, a writer who values his or her work will want to make the investment in a good editor.
Developmental editing
Once upon a time, doing developmental editing meant working with the author prior to the majority of the writing in order to formulate a plan for the book that included structure. These days that happens more often with a writing coach or mentor. In more recent years, developmental editing has become synonymous with substantive editing. However, in my view these two styles are not identical. Many people hire me to do both developmental and substantive/content editing since the two are closely linked.
Developmental editing requires discussion between the author and the editor to address goals and target audience. Once I know this information, I can go through the material and help you, the author, see what is needed to bring your intentions to fruition.
Think of the developmental editor as someone who can give you a constructive critique and a plan and also offer guidance on how to provide your readers with the best possible book on the subject. If you feel your writing or content is somehow missing the mark, hiring a developmental editor can help you build your skills and create a book that is worthy of your name.
Be aware that you may need to rewrite your manuscript in part or in whole based on the input of your editor. For this reason, it's wise to work with the developmental editor early in the process of writing your book. If you've written multiple drafts already but are still coming up short, a developmental editor can help you, but be prepared and willing to let go of what you have done to date in order to form something better. That can be difficult for a writer who has painstakingly rewritten multiple times. However, if you want your work to find its audience, to capture readers' attention, to honor the purpose for which you wrote it in the first place, you will find a way to do what is necessary for the sake of your book. A good developmental editor will see the big picture of your work and help you rise to the occasion of illustrating your vision.
Developmental editors don't do rewrites but do provide suggestions for improving language and clarity of content. In this work, I address organization, structure and particularly style.
Proofreading
Although many people use these terms interchangeably, proofreading is not the same as copy editing. Proofreading takes place after copy editing when the book is ready to go to print. This is the last step in the process before final printing. A proofreader receives the printer's or galley proof and compares that to the copy-edited manuscript to ensure that there are no mistakes. Among many other things, I look for typos and formatting errors such as extra spaces between paragraphs, alignment issues, problems with tables, etc. Occasionally, I may find something that was missed in the copy-editing stage, but few changes can be made at this stage, so it's best to have cleaned the copy well before this point. Proofreading for e-books includes checking for issues that arose as a result of conversion to that format.
RATES:
Copy editing: 3 cents per word – A 100-page book will cost approximately $750 for copy editing.
Heavy-duty editing: 4.5 cents per word – This includes copy and line editing with a brief second pass (rereading to catch any errors that were missed).
*Complete editing (copy, line, and content/substantive editing): 6-10 cents per word – The average fee range for this heavy-duty editing (the whole ball of wax) of a 100-page book is from $1500 to $3500. The higher end of the range typically involves extensive copy editing and either a fair amount of research or intensive issues with readability.
*Substantive/content editing (without copy editing): $50 per hour or 3-6 cents per word – Some books require far more work than others. The fee range will be contingent on the quality of writing, the amount of research, and the scope of editing to be done.
*Developmental Editing: $50 per hour
Proofreading: $33 per hour
*NOTE: The complete editing package obviously takes the greatest time investment. The number of pages I can go through in an hour for this type of deep editing may be as few as one or two or as many as five or six in the case of polished writers. Substantive and developmental editing may vary considerably in the amount of time required as well. Some projects obviously need much more work than others. With the work of first-time authors, the process is typically slower.